Enhance and Protect Your Sensational Smile
Meet Dr. Dat Pham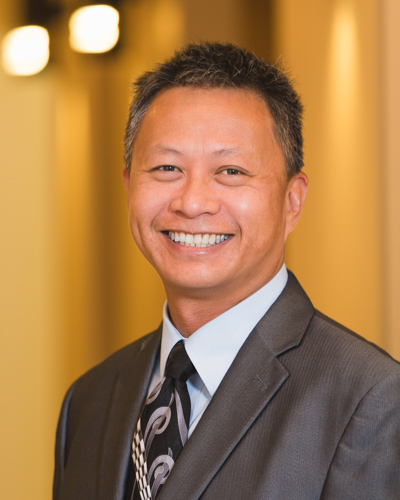 First thing you need to know about Dr. Dat Pham, founder of Grand Smiles Dental in Katy, is that he is soft-spoken and calm, which is important when he's about to perform a dental procedure on you or your loved one. With experience and knowledge he makes you feel at ease when you sit in his chair. He explains every aspect of your procedure to you before he begins.
For all you Buckeye fans, Dr. Pham earned his dental degree at Ohio State University in 2005. Before hearing his calling as a dentist, Dr. Pham graduated from the University of California, Los Angeles' Civil Engineering program. Originally from Vietnam, he is proud to call the United States his home for over 25 years. He has lived in many cities across our great country, finally settling with his family in Katy, Texas. He and his wife, Jessica enjoy being a part of this community. Their children, Yvonne and Alex attend public school in Katy. Dr. Pham, also, loves salt water fishing, so you might find him with his family on a fishing pier somewhere on the Texas Gulf Coast. One more interesting thing about Dr. Pham is that he rides a motorcycle so on clear days don't be surprised if you see his bike parked at the office.
---
Our Practice
At Grand Smiles Dental, we have provided a state-of-the-art facility for the highest quality dental care available. Our top priority is to protect the well-being of our valuable patients. For this reason, our office has met and surpassed all OSHA (Occupational Safety and Health Administration) and CDC (Center for Disease Control) standards. We are confident that you will feel right at home in our office as we welcome all our patients as if they were our family.
Appointments
If you would like to make an appointment please contact our office by phone or email. Emergency calls and appointments are available and welcome, especially for new patients seeking our help.
Financial
We will be more than happy to submit all insurance forms for you and help you recover the most from your benefits. We will do everything we can to help you afford the treatment you need and want. For patients at Grand Smiles Dental, who require major dental work, a complete payment plan can be arranged. Forms of payment accepted by the office are check, cash or any major credit card.
Cancellation
If you are unable to keep an appointment, we ask that you kindly provide us with at least 24 hours notice. We ask for this advance notice so that we can offer this appointment to another patient. A fee may be charged if a patient does not show up for an appointment without sufficient notice.
We would like to take this opportunity to thank you for choosing Grand Smiles Dental in Katy for your dental care.
---
Meet The Staff