Enhance and Protect Your Sensational Smile
Dental Implants
What are Dental Implants?
It is common for people to lose teeth due to accidents, injuries, dental decay, or gum disease. If you are someone who has suffered tooth loss, you are not alone. According to statistics, over 35 million Americans have no teeth whatsoever, and 178 million people in the U.S. are missing at least one tooth.
But you don't have to live with this problem for the rest of your life, thanks to the excellent restorative solution called the dental implant. Grand Smiles Dental, the leading Katy dental clinic operated by Dr. Dat Pham, specializes in dental implants and other areas of restorative dentistry.
A dental implant is an artificial tooth that is embedded into your jawbone to secure a replacement tooth or bridge in place. The dental implant is fixed in place by anchoring a titanium root to the jawbone and covering it with a tooth-colored crown. This restores the strength, functionality and the original aesthetics of the tooth. We are a Katy dental clinic with a reputation for creating the picture-perfect dental implants for our patients.
What to consider before getting Dental Implants at our Katy Dental Clinic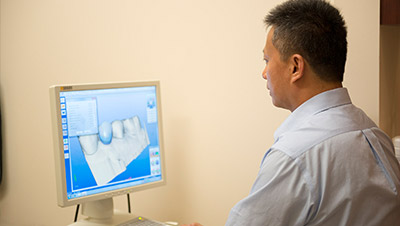 It doesn't matter how old you are or how you lost your tooth/teeth, with dental implants at our Katy dental clinic, you will no longer have to hide your smile or feel embarrassed. There are some factors that need to be considered by an expert before the go-ahead is given for dental implants. It's true that when it comes to dental implants, age is never an issue, but the candidate must have enough bone to support the implants. Therefore, once you decide to get the implants done, we strongly recommend that you come to our Katy dental clinic and have a talk with our specialists and dental surgeons who will analyze your past medical records and current condition before moving ahead with the dental implant procedure.
Heavy drinking or smoking along with a few chronic diseases might make you an unsuitable candidate for dental implants. Therefore you should consult with the dental surgeons at our Katy dental clinic. An artificial bone replacement or graft, is also an option in some cases where bone deficiency prevents the dental implant procedure from being viable. Once you have enough bone, you can easily proceed with the dental implants, right here at our Katy dental clinic.
---
Why choose Dental Implants?
Aesthetically pleasing: Dental implants are indistinguishable from real teeth to both others and yourself.
Permanent: Dental implants fuse with your natural bone, they can last a lifetime.
Communication: Dental implants allow you to speak naturally, no more slurred words due to dentures slipping out of place or missing teeth.
Comfortable: Dental implants look, perform, and feel like part of yourself because they are.
Lifestyle: Dental implants eliminate the need for removing dentures and the hassle of dealing with adhesives. No embarrassing accidents either, dental implants are like having natural healthy teeth again.
Healthier: In cases where a single tooth is being replaced a dental implant allows the adjacent teeth to remain completely intact as opposed to a bridge which requires those teeth to be reduced and crowned as supports. Opting for a dental implant will also allow normal access between teeth and to the gums making good oral hygiene easier to maintain.
Safe: Dental implant procedures have an overall success rate above 98%.
---
Why come to Grand Smiles Dental for Dental Implants?
Grand Smiles Dental is one of the premier dental implant clinics in Katy, Texas. Our Katy dental clinic employs an expert panel of oral health specialists, dental surgeons, and professionals.
We believe in treating our patients as if they were our family. This enables a more intimate interaction, which results in more successful treatment. Our Katy dental office adheres to OSHA (Occupational Safety and Health Administration) and CDC (Center for Disease Control) standards, while we use only the latest equipment and cutting-edge technology such as 3D X-ray machines to ensure better safety, precision, and outcomes for our dental implant surgeries.
To know more about our dental implant treatment or to book your appointment with us, call Grand Smiles Dental today!
Dental Implant Patient 1 Photo Gallery
Dental Implant Patient 2 Photo Gallery