Find Your Beautiful Smile Again
All-on-4 Implant Fixed Bridge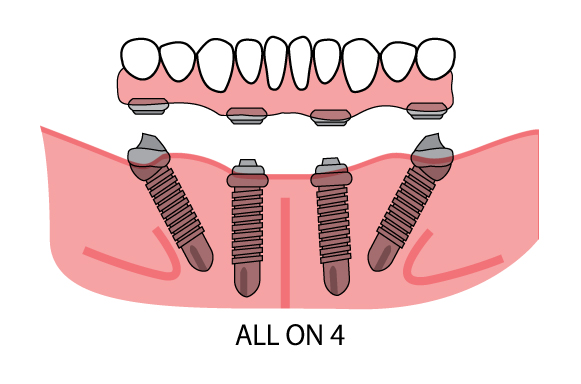 The All-on-4 Implant Fixed Bridge has become one of the most sought after full mouth reconstruction dental procedures performed by
Dr. Dat Pham
at Grand Smiles Dental due to the longevity of its science, its success rate (95 percent), and how natural-looking the final product appears. Patients who suffer from heavily decayed teeth in the upper, lower, or both portions of the mouth, or have lost many or all of their teeth, are prime candidates to have their teeth replaced with this oral surgery operation.
What Is the All-on-4 Procedure?
The All-on-4 procedure is a dental implant operation, but instead of placing tooth implants in the gums on an individual basis, this allows for four teeth – more commonly known as a bridge – to be placed in the mouth. In All-on-4 procedures, Dr. Pham places a minimum of four dental implants in each arch. Each arch receives a long bridge of 10 to 14 teeth, depending on the available bone.
For those who have majorly decayed teeth, what remains of the decayed teeth is removed. If the bone in the gums is weak, then the bone is surgically replaced in order to create a firm foundation for the implants. Identifying trouble spots within the bone is done using our 3D Cone Beam Scanner. This allows for Dr. Pham to accurately find where bone grafting should be conducted. The cost of removing bad teeth and bone, and conducting bone grafting is included in the price, so there is no extra charge for more in-depth dental procedures.
With thorough treatment planning and pre-surgical lab work, patients receive their teeth on the day of surgery. Yes! Patients walk out of the surgery with their teeth. Our patients never have to live a day without teeth. After three to four months of healing, a new and final bridge will be fabricated. An annual visit to our Katy dentist office is required in order to remove the fixed bridge and thoroughly clean it. Aside from that, the only maintenance required is what is common with natural teeth: brushing, flossing, and rinsing.
What Are the Advantages of the All-on-4 Procedure?
In comparison to other alternatives, the All-on-4 Implant Fixed Bridge is the best option for those looking to receive a natural look and feel to their teeth. Here are the specific advantages:
Unlike removable dentures or an implant over denture procedure, the All-on-4 greatly improves the functionality of the teeth, reaching about 90 percent compared to natural teeth.
While the process is ongoing, Grand Smiles Dental provides patients with a temporary bridge the day of the surgery so they do not have to return to their daily life with large gaps along their gums.
Unlike removable dentures or an implant over denture procedure, this surgery allows for the bone and tissue to remain preserved.
One of the most important aspects of this dental operation is that these dental implant bridges do not decay and have a 95 percent success rate.
Smiling is a major part of daily life, the All-on-4 Implant Fixed Bridges are known for being aesthetically pleasing and natural-looking, which greatly restores patients' confidence.
They can smile without fearing that their teeth might fall off or out.
They don't have to worry about forgetting their dentures at home nor do they have to go to bed with their teeth in a jar.
Their partners, as well as friends and other family members, will never see them toothless.
These dental implant bridges allow for patients to eat the foods they want, just as they would with healthy, natural teeth.
Also, the All-on-4 dental bridges allow patients to brush like they would their natural teeth.
This oral surgery procedure is the most cost efficient and effective method to enabling patients to retain a healthy mouth and begin a normal existence with their teeth. For those interested in possessing a beautiful smile and a natural feel, schedule your appointment with Dr. Pham at our Katy dental office on the outskirts of Houston by calling 281-402-8188 or by filling out our online form.
All-on-4 Procedure Patient 1 Photo Gallery
All-on-4 Procedure Patient 2 Photo Gallery